Ergonomic solutions. That's what we do.
We aim to improve the working day of numerous users by developing product-solving accessories with a focus on usability, design and haptics. Our first product is the Solumics Case, the world's first ergonomic case for the Apple Magic Mouse.
The Magic Mouse is a great pointing device, but it's not very comfortable to use for long periods of time. That's why we designed our first product to be an ergonomic case for the Apple Magic Mouse. By providing support for the wrist and palm, it helps to reduce strain and pain associated with extended use. In addition, the case also helps to improve grip and comfort while in use.

So there is no need to switch to an alternative mouse, like the Logitech MX master 3, Logitech MX vertical, Logitech pebble, or else, which were popular alternatives in the past.
Made in Austria.
Austria is a small place with big ideas. For us, it's home – a place to implement ideas and be inspired. – but also where we can ensure that all our products will be precise, reliable, long lasting, and of the highest quality.

It also allows us to employ fair labour and sustainable production methods, leading to a healthier ecosystem and work environment for all.
How can we improve the Magic Mouse?
We wanted an ergonomic Apple mouse with a palm elevation but didn't want to switch to a competitor's product. So, we tried to design our own ergonomic case for the Apple Magic Mouse.
First prototype of a Magic Mouse case.
When we started working on our Magic Mouse case, we had no idea what the final product would look like. Our first prototype was made of clay and didn't work, but it showed us the potential for ergonomic improvement.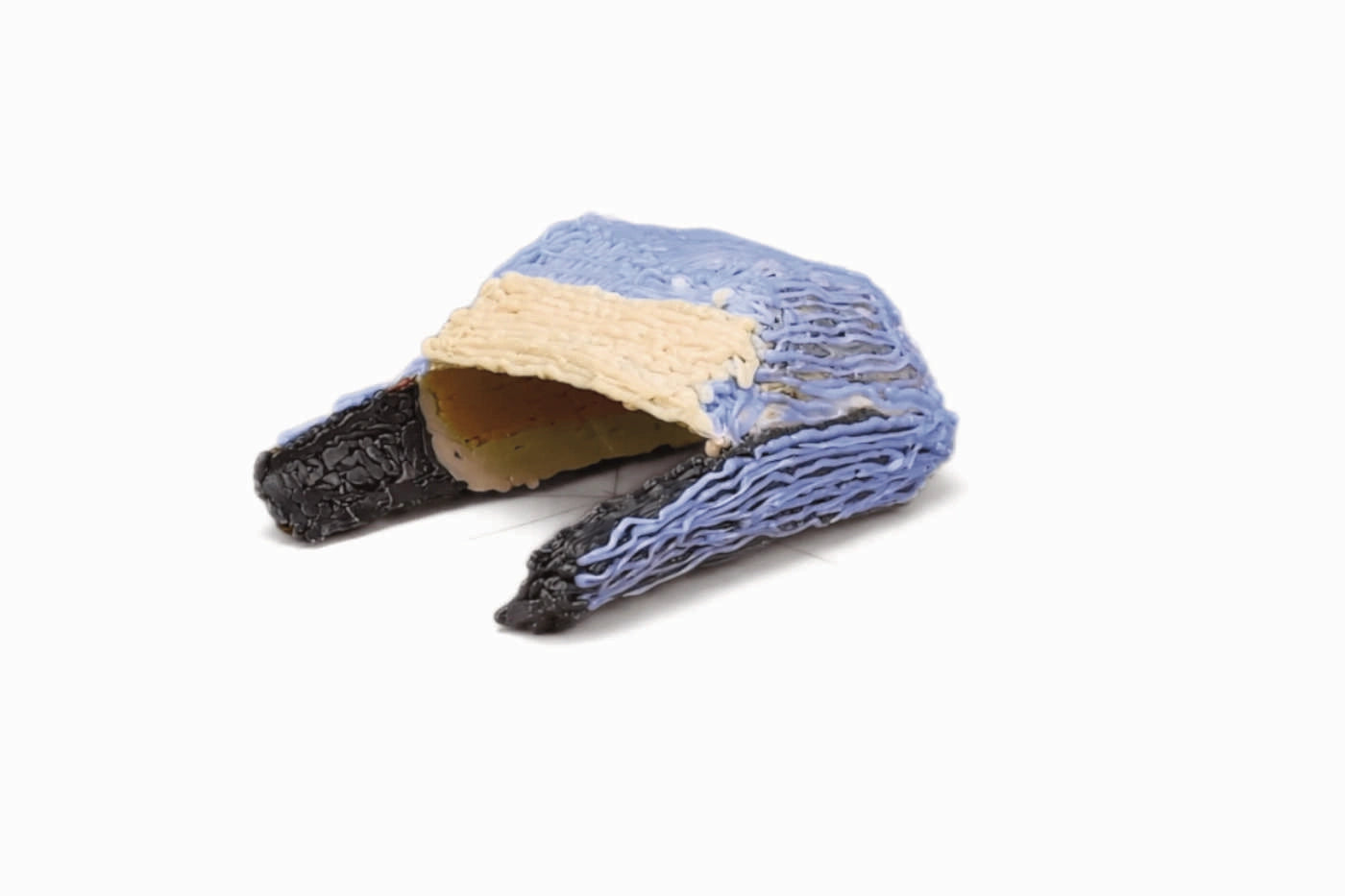 Second prototype.
For our second prototype, we used a 3D pen to create a more ambitious design that was compatible with all versions of the Apple Magic Mouse. It worked perfectly, but was a bit too big for our liking. Nevertheless, we were pleased with the progress and knew we were getting closer to our goal.
Proof of concept.
After the success of our first fully functional case, we began developing a production concept, considering materials, consulting experts, and financing. Our third 3D-printed prototype was a big step forward in design and precision, thanks to advances in 3D printing technology. The results were impressive, and we looked forward to continuing to push the boundaries of what's possible.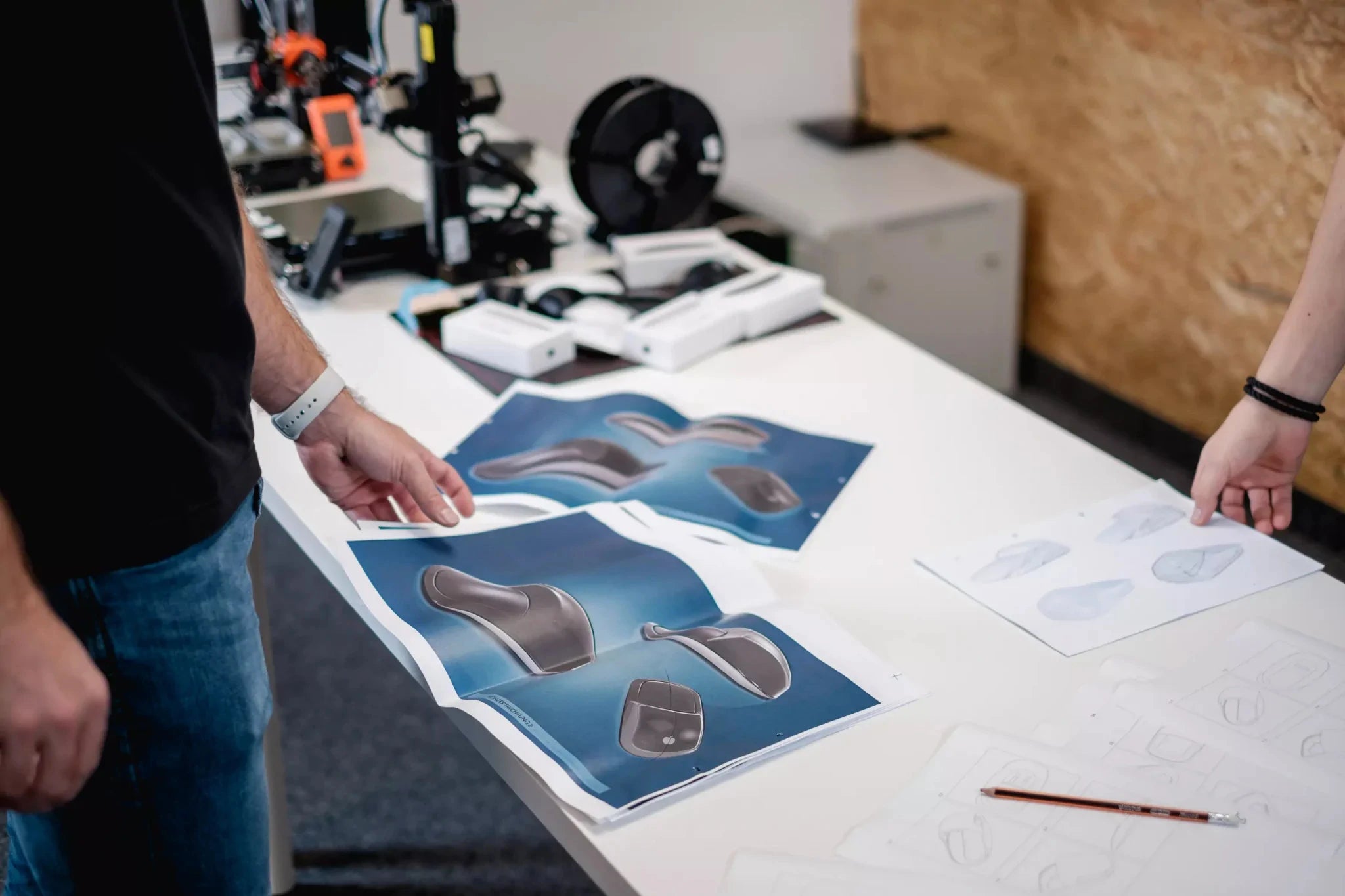 Design phase.
After perfecting the first initial shape of the case, we worked with experts to improve the design. We focused on creating a simple and elegant look that matched Apple's minimalistic aesthetic while also improving the user experience. We developed five promising prototypes that were both beautiful and practical, just like the Apple Magic Mouse.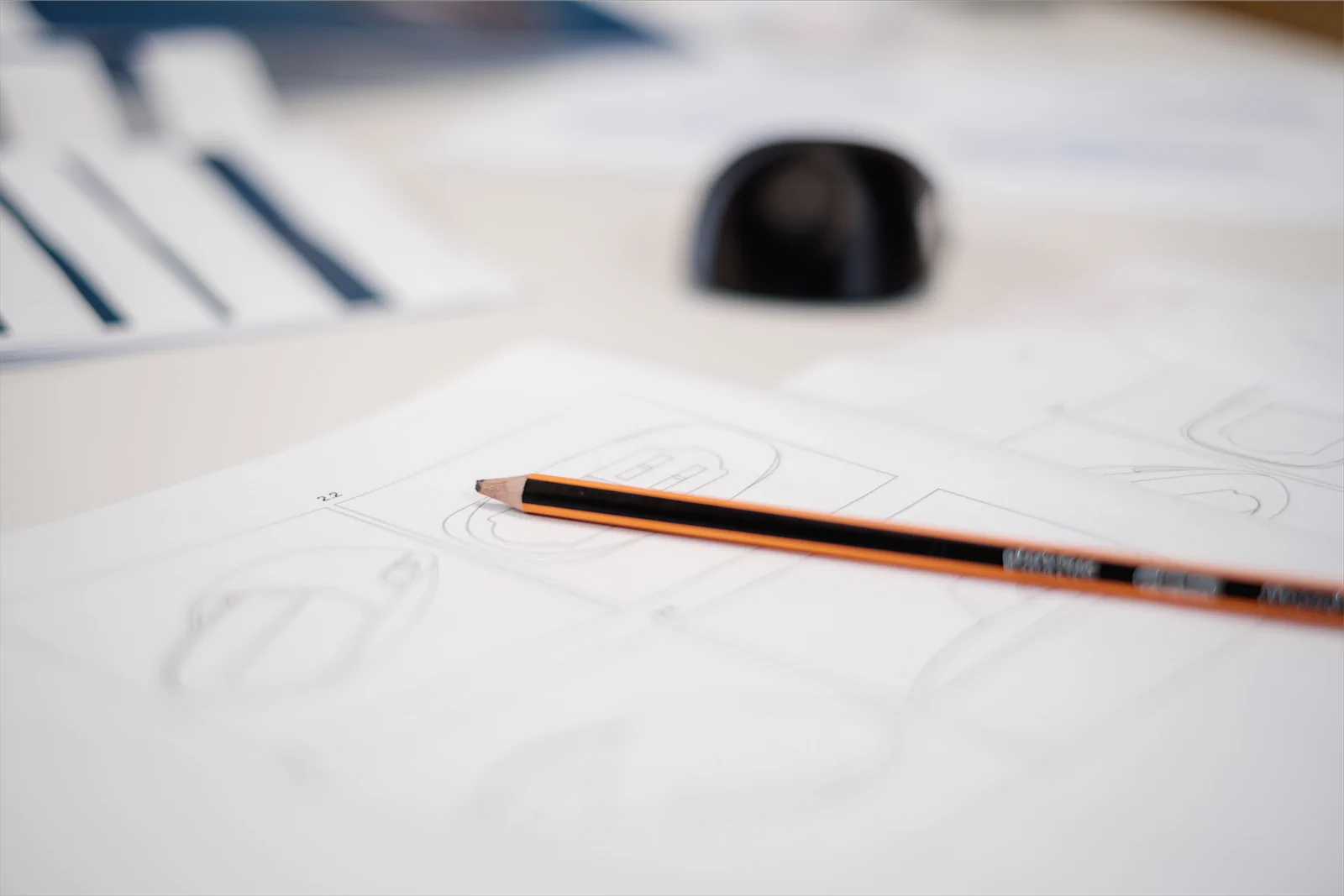 Beta testing.
After creating more than 20 designs, we tested the five most promising prototypes with people from all walks of life. When we had the final case in front of us, we knew we had something special. It was sleek, sophisticated, and unlike anything else on the market.
Crowdfunding.
To ensure there was a market for the Solumics Case, we tested the waters with a Kickstarter campaign. The response was amazing - we not only met our funding goal but also received valuable feedback from our backers. Based on that feedback, we made some tweaks to our design and began work on a larger production run.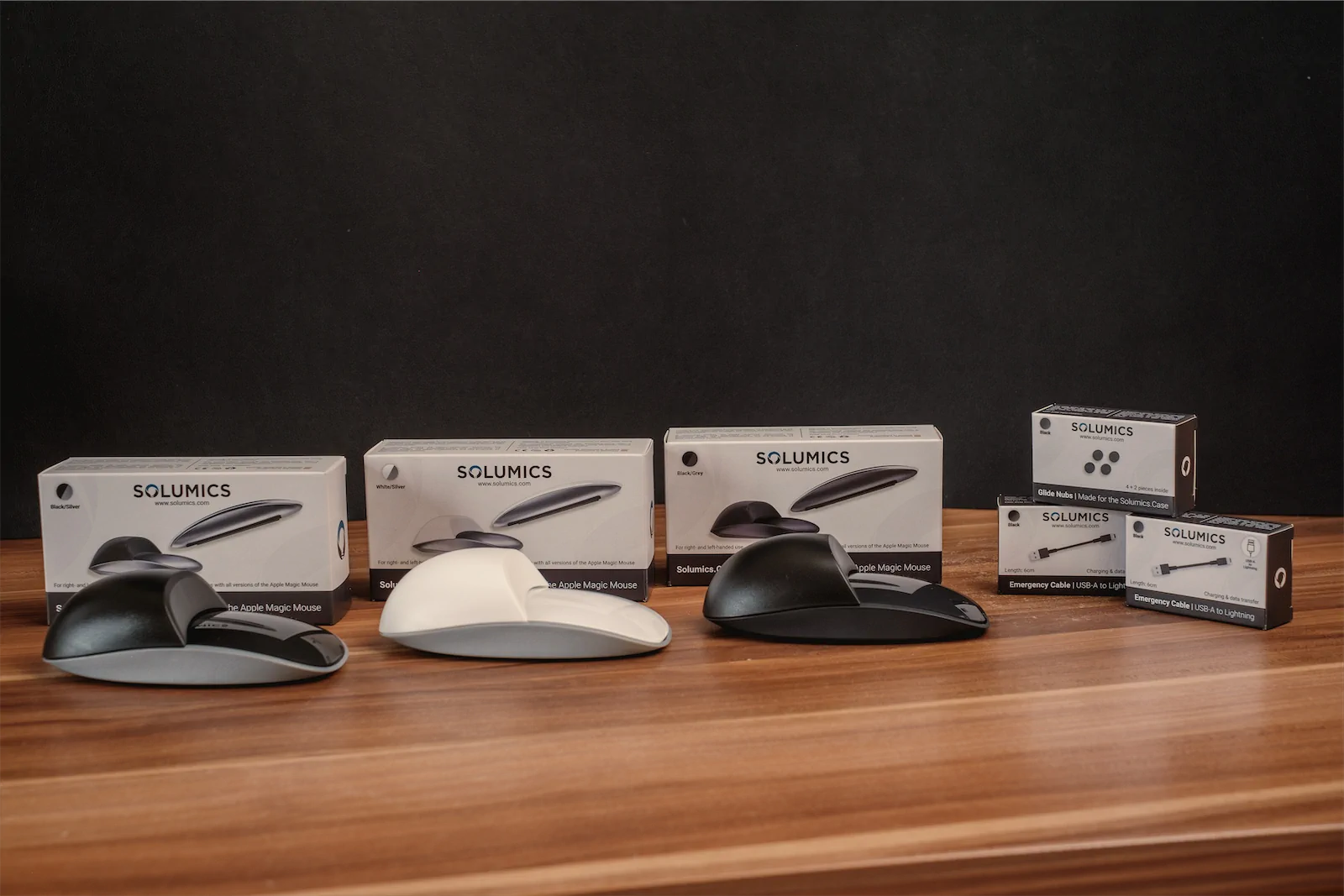 Producing under fair conditions in Germany.
The Solumics Case is now available in our online shop, along with additional accessories. It was successfully funded through a Kickstarter campaign and is manufactured in Germany to strict quality and sustainability standards.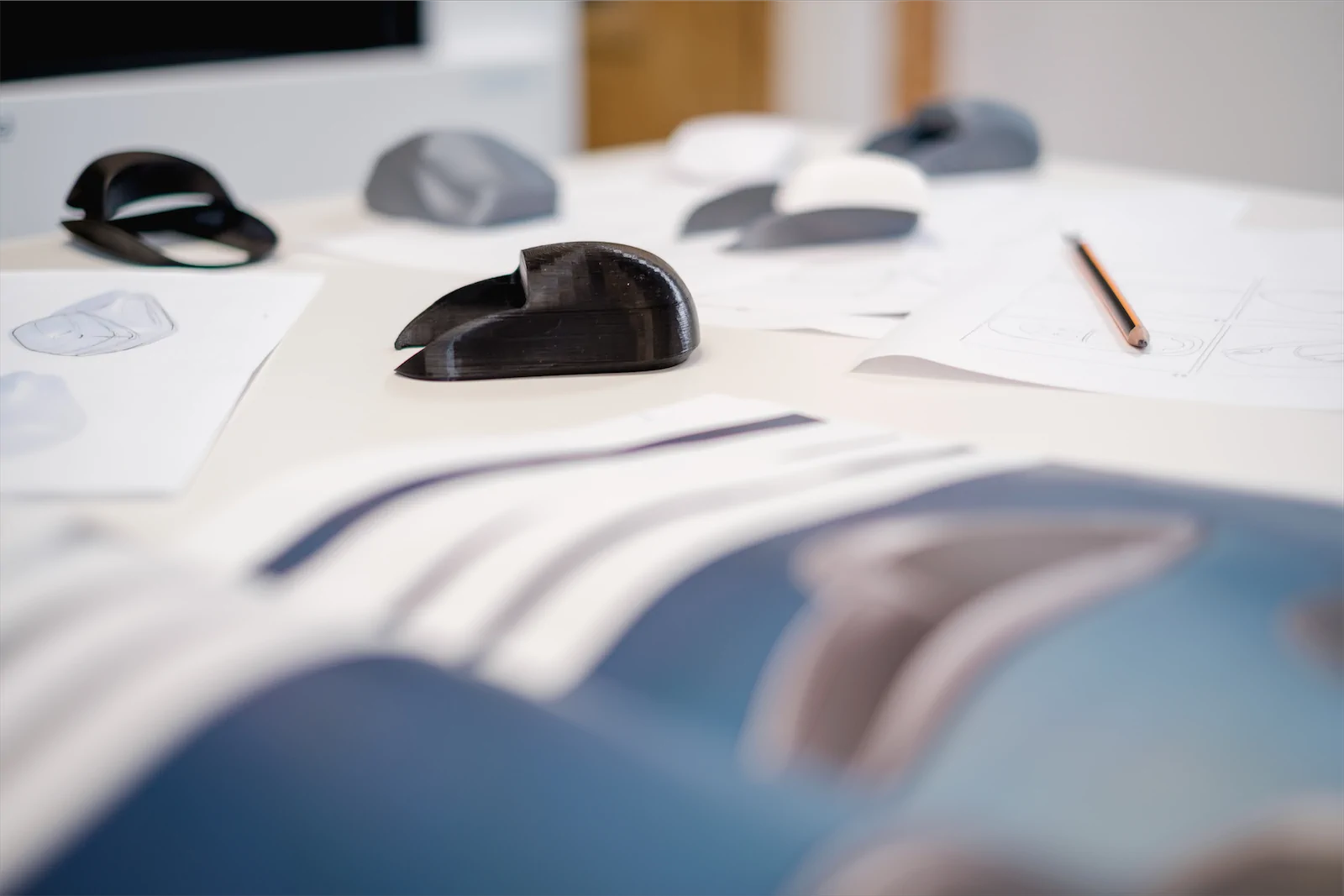 Quality builds trust.
Our future depends on the satisfaction of our customers, employees and partners. Customised products offering sophisticated, innovative solutions are the core business of Solumics.

We believe that trust is achieved through reliability and quality, and quality is always a question of attitude.
Success through perfection.
We don't want to be just another company, but rather create real added value for our customers with truly innovative products. We take pride in having an eye for the smallest details.
The quest for innovation.
"Design thinking is a method for meeting people's needs and wants in ways that are technologically feasible and strategically meaningful." -Tim Brown
Transparency and communication are the drivers of innovation. That's why we first ask our customers, partners, and employees what we can do for them rather than what they can do for us. Because there's always room for improvement.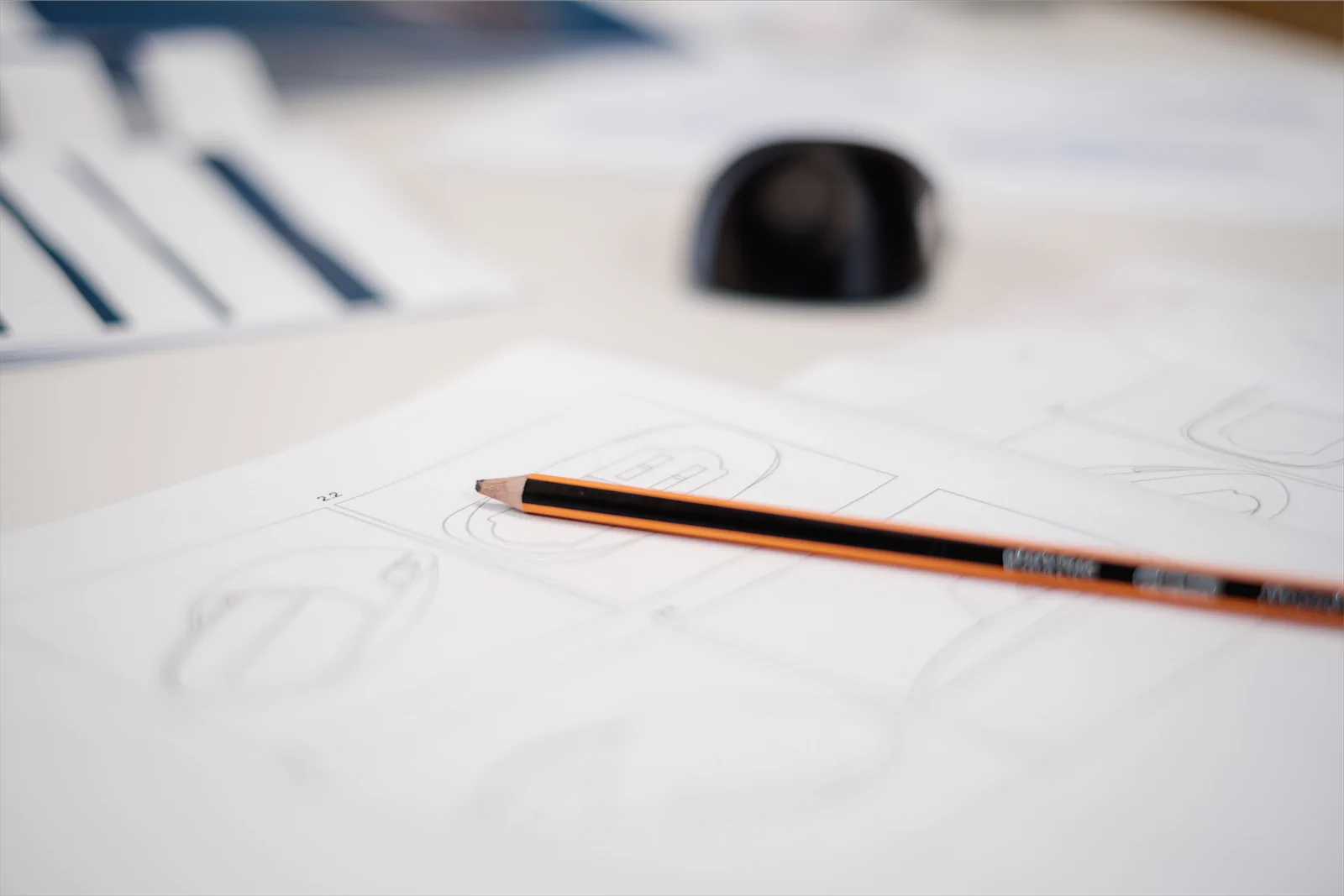 Progress means smart action.
Every opinion is welcome and constructive criticism is a chance for us to become even better. We can not only listen, but also understand and act. Successful cooperation is the basis for achieving our goals. In addition, we reflect on our own goals and achievements.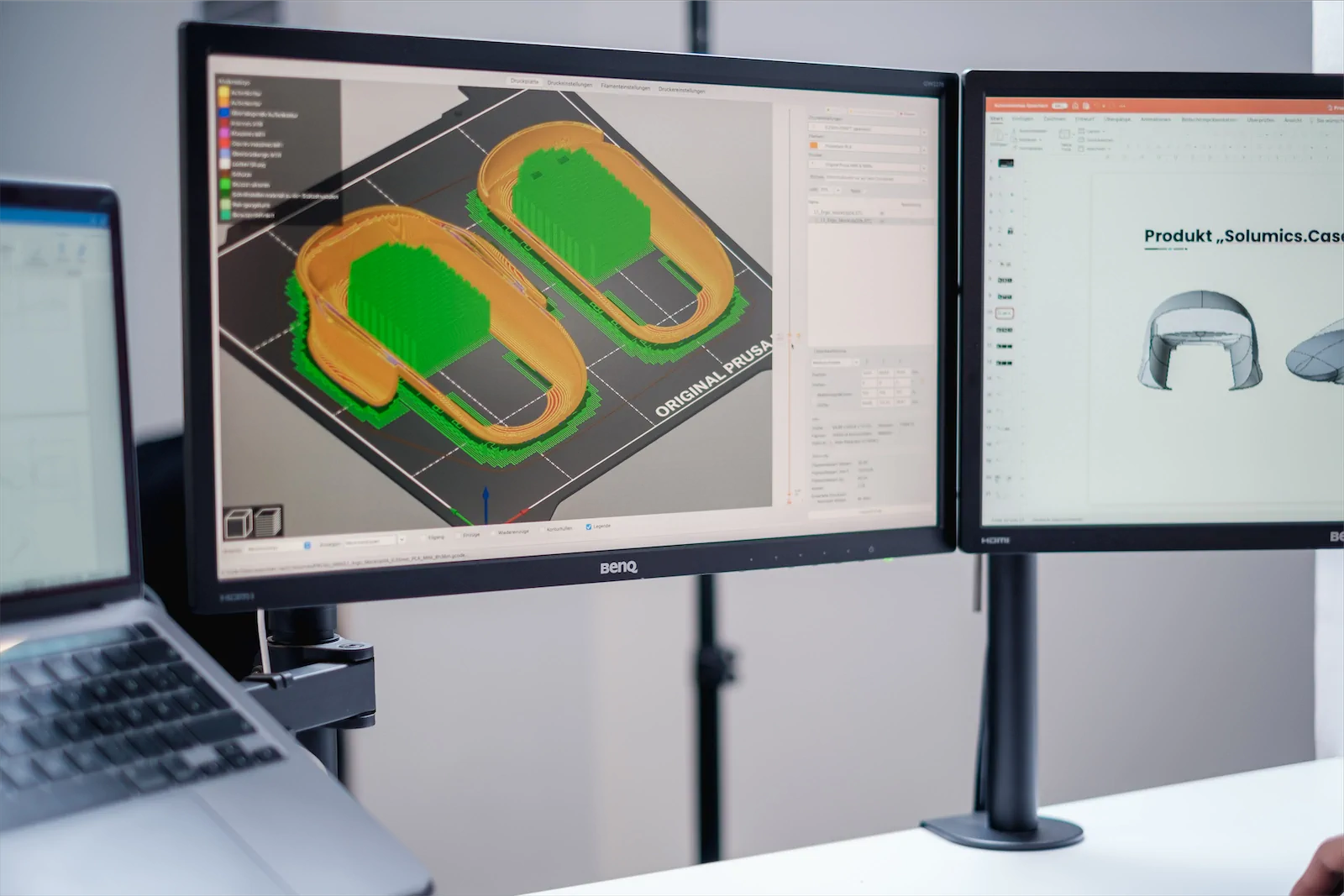 Fairness. Transparency. Honesty.
Transparency creates trust and generates closeness. We always act as we expect others to and lead by example.

In order to live up to our corporate responsibility, we develop ourselves and our products without depleting natural resources. We act in a socially responsible manner and focus on environmental protection.
Our vision.
We believe in innovative products that offer true value to our customers. That's why we focus on what we like to call Human Solutions, that are more than purely technical. This approach means that the needs of our customers always take centre stage.

That's why our products go through numerous feedback loops to get closer to the optimal solution they can provide. This, together with a sustainable structure, will allow us to solve complex problems with innovative ideas for years to come.
The faces behind the vision.
Hello there, this is us, Alex and Andreas. We're both avid Apple enthusiasts who are passionate about product design and ergonomics.